9 Lives Soapery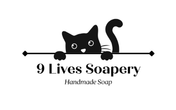 Thank you for visiting my site! My name is Doreen McKeag, owner and creator of 9 Lives Soapery, where I create artisan, homemade soap. I am born and raised in Southeastern Connecticut and live with my husband, John, and one of the inspirations of my business name and logo, Gracie, a domestic long-haired cat. I have always had a cat in my life and love their quirky, independent nature. Isn't she beautiful? My husband and I enjoy traveling, visiting local breweries, watching football, and when I'm not soaping, I'm riding my Echelon spin bike, my second addiction next to soap.
I started soap making as a hobby, creating soap for my husband and my family. I've always been one to jump right into new projects feet first, learning as I go. I learned how to crochet from watching YouTube videos and have made blankets for my whole family. I started making soap using melt and pour as I was apprehensive about using lye in the cold process method. After I learned that a local soap maker was holding classes, I didn't hesitate to sign up. I finally ditched my fear of lye and I've been making soap ever since. I was making so much soap I had to start giving it away to family and friends, and after getting rave reviews, I decided it's only right to share them with all of you.
I make a variety of different soaps using skin loving oils and butters and a few unique ingredients to add that special touch. All my soaps are made in small batches, and no two bars are alike due to the handmade nature of them. I do not use any unnecessary chemicals, and only use phalate free fragrance oils and essential oils, skin safe colorants, and natural colorants. I hope you give them a try, I'm sure you will love them as much as I do!